CardValet
Your Debit Card. Your Control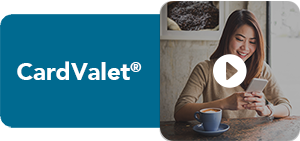 What is CardValet?
CardValet allows you to proactively manage your Hickory Point Bank debit card via your mobile device. The CardValet app can be downloaded from the App Store or Google Play.
With CardValet you can:

Turn your card "on" and "off"
Set spending limits, including by amount or merchant type
Limit transactions to a certain area using your phone's GPS
Receive purchase alerts, in real time
How does it work?
CardValet is controlled through the CardValet App. You can use your smartphone to control your debit cards and stay secure. The App makes controlling your spending, reviewing balances and transactions and protecting yourself against fraud easy.
Why do I need it?
CardValet is a fraud prevention tool that keeps you secure. Whether your card is lost or stolen, you will be able to protect yourself at the click of a button.
Can I access it through the HPB Mobile App?
Yes. You can access a limited amount of features within the HPB Mobile App.