Positive Pay & ACH Positive Pay
Request Info
Potential losses for your business from the risk of fraud can be substantial. Hickory Point Bank's Positive Pay can help you identify fraudulent checks and electronic transactions to prevent lost time and revenue. Positive Pay reduces the risk of check fraud and with ACH Positive Pay, you control electronic access to your checking account.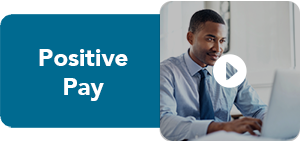 Features:
Choose the solutions that work best for you:
Standard Positive Pay

– A sophisticated service in which we work together to detect check fraud by identifying check numbers and amounts for check items presented for payment.

Payee Positive Pay

– Works the same way as Standard Positive Pay with an extra layer of protection by checking the payee name on each check.

ACH Positive Pay

– Provides the ability to add filters to help manage electronic transactions.
Benefits:
Daily account monitoring.
Save time by not having to review each transaction as it posts to your account.
Receive alerts that notify you of checks that may need your attention.
Convenient login system allows you to view transactions and make one-click decisions.
Review exceptions only when you have them.