Paperless Statements
Request Info
Stay on top of your finances faster, easier, and safer with Paperless Statements! Each month you'll receive a notice via email when your statements are ready, then you can review them online up to 12 months past. You can view or download them at any time, free of charge. Sign up today!
Access your monthly statements online
Faster and safer than paper statements
Eliminate paper clutter and filing hassles
Reduce chance of identity theft
Access past statements on-line up to 12 months
Download or print them with one click
Free and secure service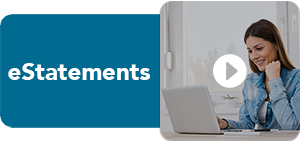 Enrollment
If you are already enrolled in Online Banking, just follow the 5 simple steps below to get registered in Paperless Statements today.
Please note: In order to register for Paperless Statements you must first be enrolled in Online Banking.
Login to your Online Banking account and click "profile" in the top navigation.
Scroll down to the "Electronic Statements" and click "Edit" or "enroll".
Once you are in edit mode, check the box next to which accounts you are enrolling in Paperless Statements and then verify your email address by retyping it.
Click the "Electronic Statement Consent Agreement" link and review the document. After reviewing, retrieve the unique code at the bottom of the document.
Check the box to the left of the "Electronic Statement Consent and Agreement" link to agree to its the terms, enter the confirmation code, and click the "Accept" button.
Congratulations! You are now enrolled in Paperless Statements.
FAQ
What accounts are eligible for eStatements? Checking, Money Market and Savings
Do I need to have online banking to participate in eStatements? Yes, you need to be enrolled in online banking. You can enroll in Online Banking by click on "Online Banking" in the upper right hand corner of the website and then clicking on "enroll".
Is there a cost to enroll in eStatements? There is no charge for Hickory Point Bank's eStatement service.

What are the benefits of receiving an eStatement?
Convenient. eStatements and canceled check images are available for 12 months.
Fast. eStatements can be accessed days before a paper statement would arrive in the mail.
Email Reminders. You will receive an email notification when your new eStatement is available for viewing.
Efficient. You can download your eStatements and file may be imported to money management software or a spreadsheet.
Secure. Reduce the risk of statements being lost or stolen in the mail.
Safe. Your eStatement is protected by the latest security measures available.
Environmentally Friendly. Stay clutter-free and conserve resources by accessing your statement online.
Free. There is no charge for eStatement service.

How will I enroll for eStatements? Auto enroll through your online banking account. If you experience any difficulties, call us at 217.875.3131 for assistance.