Safety & Security
When you bank at a locally owned bank, you can feel the difference, and this includes when it comes to keeping your information safe and secure.  We know our customers and we make decisions that have positive impacts on them and their communities. We are dedicated to keeping your information safe and secure and understand that the most effective way for your account information to remain protected is to be an educated consumer, which is why we have created the below tips and tools to help educate you in preventing fraud and identity theft. We encourage you to closely monitor your account activity through online banking and immediately contact us about any suspicious activity.
Please call or stop by any of our local branch locations with any questions or concerns regarding safety and security, we are here to help. Enjoy the tips and tools below.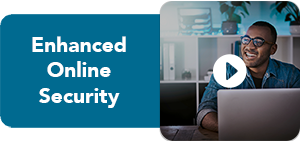 Email Tips
Fraudulent emails can be a major problem for unsuspecting internet banking customers. Claiming to be sent by well-known companies or organizations (such as this bank, Federal banking regulators, etc), these emails ask customers to reply with personal information, such as their account number, Social Security number, a credit card number or account password. These deceptive emails are called "Spoof Emails" because they fake the appearance of a known web site or company in an attempt to commit identity theft. Also known as "hoax" or "phisher" e-mails, this practice is occurring more and more frequently throughout the online world.

Please be aware that Hickory Point Bank & Trust and Federal banking regulators will not contact you through emails or telephones requesting personal information, such as those listed above.
You can protect your personal information by simply ignoring the emails altogether. You should never provide contact, sign-in, or other sensitive personal information in an email.
If you receive such an email or have any questions, please feel free to contact us at 217.875.3131 or Toll Free: 1.800.872.0081.
Cyber criminals often target financial institutions, so be aware of phishing emails.
Password Tips
Use at least 12 characters
Use at least 1 capital, 1 lower case, 1 number and 1 symbol (if allowed)
Remember, a space is considered a special character
Avoid using your own name or the word "password"
Avoid using commonly known personal information, such as birthdates, pet names, kids names, etc.
Avoid repeated or common patters amongst numbers and letters, such as "11111", "12345" and "abcde".
Avoid writing it down or communicating it through any channel. If you need assistance remembering your password, consider using a password manager program.
Social Media Tips
Use a strong password and change it frequently
Avoid friending unknown individuals
Avoid giving out personal information via messenger or other social media platform
Be mindful that cyber criminals often contact you via social media in disguise of a friend or family member
Avoid falling into social media trends like self quizzes and test that ask you to post personal information
Report suspicious accounts
Think before you post, posting personal information can put you at risk of being targeted by cyber criminals
Be cautious when allowing applications to access your profile information
Think before you click.
Understand your security options and settings
Always check the domain to ensure you are logging into the correct site
Be aware of spoof accounts
Set up security questions
Protect your computer by installing antivirus software
Remember to log off.
Safety & Security Products
CardValet [Video Tutorial]: CardValet provides enhanced security control for Hickory Point Bank's debit card holders. This product is presently available for download from the App Store or Google Play.
EMV/Chip Card [Video Tutorial]:Chip cards (also known as "EMV" cards) have an embedded chip to hold data that is needed to process payment transactions. Simply put, chip cards make your life easier. When you make purchases in stores, the smart chip adds a layer of security to the transaction as it creates a unique transaction code that cannot be used again. This helps to significantly reduce counterfeit card fraud.
Online Banking: Save yourself a trip to the bank! With HPB Online Banking you can access all your accounts 24 hours a day, 7 days a week, from any computer with an Internet connection or via the Hickory Point Bank Mobile App. Your Account is just a tap away.  Make transfers, check balances, view account history, pay your bills, and more.
Account Alerts: Did you know that you can set up text and email notifications for your account right through our Online Banking? Simply logon to your online banking account through a PC and click on the "Alerts" selection in the top right corner of the screen.  From here, you can select DDA (Checking), SAV (Savings), or LAS (loans).  Each of these have a number of different alerts you can set up from deposit or debit notifications, daily balance notifications, account payments, and even if your balance falls below a specific dollar amount.  You can choose to get this notification via your mobile device or email.  For more information or help setting up a notification stop by or call your personal banker
Tutorial Center: Visit our tutorial center to become familiar with our products. The more informed and educated you are on what's available to you and how to use it, the more safe and secure your personal information will be.
Paperless Statements: Cyber criminals can access your account information through the mail or trash.  Stay on top of your finances faster, easier, and safer with Paperless Statements! Each month you'll receive a notice via email when your statements are ready, then you can review them online up to 12 months past. You can view or download them at any time, free of charge.
Safety & Security Links
Phone Tips  
We May be calling you.
To protect your account, we monitor your ATM and debit card transactions for potentially fraudulent activity which may include a sudden change in locale (such as when a U.S. issued card is used unexpectedly overseas), a sudden string of costly purchases, or any pattern associated with new fraud trends around the world. If we suspect fraudulent ATM or debit card use, we'll be calling you to validate the legitimacy of your transactions. Your participation in responding to our call is critical to prevent potential risk and avoid restrictions we may place on the use of your card. If we are unable to reach you, your card will be restricted from use. Our automated call will ask you to verify recent transaction activity on your card. You'll be able to respond via your touch tone keypad. You'll also be provided a toll-free number to call should you have additional questions. Our goal, quite simply, is to minimize your exposure to risk and the impact of any fraud. To ensure we can continue to reach you whenever potential fraud is detected, please keep us informed of your correct phone number and address. In the meantime, please be diligent in monitoring transaction activity on your account and contact us immediately if you identify any fraudulent transactions.
We do not call and ask for your personal information:
Never give your personal information out to a caller. We do not call you and ask for any personal information over the phone.  Phone scammers can be very convincing and it's important to safeguard your information.
Phone Security Tips
Screen your calls
Do not store private information on your phone
Be aware of common phone scams occurring in your area
Avoid giving out your:

Address and ZIP code
Phone number
Date of birth
Social Security number
Card or account number
Card expiration date
Security numbers on the back of your card
Your PIN is private; NEVER give it out
Mobile Banking Tips
Do not connect to unknown wifi networks
Implement a passcode on your mobile phone
Do not jailbreak your mobile phone or disable the security features
Be mindful of the apps you download
Maintain up-to-date software on your device
Ensure you logout of your mobile banking and other apps when completed
Use a strong password
Use Online Banking & Mobile banking. Learn more here
HPB Mobile: Access your finances and account information. Anytime. Download our app from the App Store or Google Play.
Tips to Protect Yourself
Unless absolutely required for a legitimate business purpose, avoid giving out your:

Address and ZIP code
Phone number
Date of birth
Social Security number
Card or account number
Card expiration date
Security numbers on the back of your card
Your PIN is private; NEVER give it out

In stores and at ATMs, always cover your card and PIN, and watch for:

Cell phone cameras, mirrors, or other tools used to view cards and PINs
People watching your transactions
Cashiers taking your card out of sight; take it to the register yourself
Any unusual activity at ATMs; if you feel uncomfortable, go to another ATM

Shred sensitive papers
Use Online Banking to help safeguard your information.  Use it to monitor your accounts and to be aware of fraudulent transactions.  Be sure to sign up for account alerts, which will enable you to be notified if your account falls beneath a certain amount or a large purchase is made.
Ensure that your computer is secure and an up to date virus protection plan is installed.
Protect your mobile device by utilizing a security or passcode
Be aware of missing mail and consider signing up for paperless statements to prevent fraud
Internet Tips
Online, you should never respond to unsolicited emails that:

Ask you to verify your card or account number; such emails are not sent by legitimate businesses
Link to websites; such sites can look legitimate but may collect data or put spyware on your computer
Financial Elder abuse
Financial elder abuse continues to be a growing threat.  Cyber criminals often target older adults to fraudulently take advantage of the senior's finances. Unfortunately, this is becoming more and more common and often leads to the loss of funds, property, and other valuables.  The abusers can be strangers, caregivers, neighbors, and even family members.  Here are some tips to catch and prevent financial elder abuse from occurring or becoming a major issue:

Use Online Banking to monitor the funds
Ensure the elder is not giving out their financial or personal information
Be suspicious of unusual or frequent withdrawals
Be mindful of inconsistent activity
Monitor for large sums of money being withdrawn from the account
Be aware of individuals with the elder that may have access to their financial information
If you suspect financial elder abuse, contact your local Department of Social Services to report that activity.
ATM Security Tips
Be on the lookout for ATM Skimmers
Try to utilize chip enabled ATMS
Do not give your PIN or any other personal information out
Be aware of your surroundings when using an ATM
Contact Us
If you are going to be out of the country or anything out of the ordinary, please contact us ahead of time. When we say we are here to help, we mean it literally. Call us today to let us know about your upcoming travels or if you have any other questions you need assistance with at 217.875.3131