Remote Deposit Capture
Request Info
Enjoy the flexibility of securely making deposits from your office while reducing the time and expense of trips to a branch.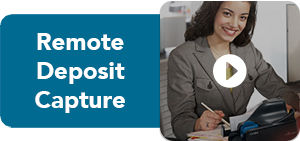 Features:
Reduces security risks by eliminating employees carrying live checks to and from the office.
Experience added protection by setting different levels of user access rights and deposit account authorizations.
All deposits will receive the same availability as if they were made at the bank and can be viewed with our online banking system.
Benefits:
Improve cash flow by making deposits sooner.
Save time when employees at distant locations capture payments and make deposits immediately.
Research capabilities are available to find a specific check or payment from an individual or business.